Hero Central NOW OPEN at both sites for Nursery - PreK during the 9am service ONLY! Check out what changes we are making to prepare for the children to safely return.
All children must be pre-registered to attend. Please register each week at
community-church.com/church
.
All children are welcome to attend services. Please stop by the table in the lobby to pick up a bag containing coloring sheets and crayons.
We are excited to be able to share Hero Central @ home with you. Check out the video lessons & parent guides below.
In September our
Elementary kids
series is Block Party: Everyone's Invited. We will talk about how friendship is using your words and actions to show others you care.
Check out this link
for the weekly parent guides.
In September our
Preschool kids
series is Ice Cream Sundae. We will be talking this month about how God has a plan for us!
Check out this link
for the weekly parent guides.
Are your kids starting to ask questions about their faith? Are they wondering about God and His love for them? Check out this
Salvation Parent Conversation Guide
.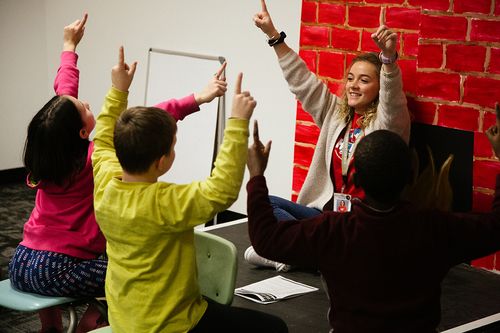 Jesus said, "Let the little children come to me..."
Hero Central works alongside parents in helping children establish a strong, Biblical foundation upon which to build their lives and develop a faith that, in God's timing, will lead them into personal relationship with Christ.
With a focus on the family, we will help parents build their family unit by applying Godly principles on a daily basis, thus enabling parents to become strong, Godly examples for their children and others to follow.
During the school year, Hero Central offers classes for children, nursery – 5th grade, at both locations. In Summer, classes are offered for nursery – pre-school. If you are new, please stop by the Hero Central desk to register and become part of the Hero Central family.
If you have any questions or would like to help out in a classroom, please email
Wendy Lenz-Schwersenska
.
We'd love to hear from you. Fill out the form below to get started.