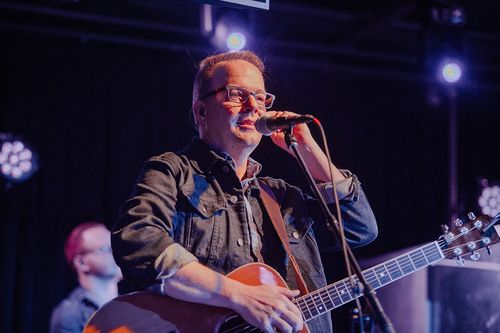 Welcome to our "News & Notes" blog! Here you can find all the latest updates on what's coming up at church, as well as some media recap from the past week. So, if you haven't been able to worship with us or just want to be kept up to date on the latest info, check out this blog!
Baptism is an outward sign of something God has done in your life. If you are a follower of Jesus the next step is baptism. We will be offering
baptisms on April 26th
. Please
fill out this form
if interested.
Make your reservation for the annual
Heritage Gala February 14th
. The Heritage Gala is a special dinner event held at Community Church Ryf Road. Each year this event benefits the mission trips and projects of Community Church. This year all donations will support the Poland Mission Trip & CSM Scholarships. Dinner and dessert will be prepared and served by the Poland Mission Team. Childcare will be provided by CSM students. Make your reservations at
community-church.com/gala.
During the month of February we are highlighting the mission of
World Relief
and their impact with refugee families as they make a home and seek a new life in the Fox Valley. Find out how you can help
support this ministry
.
Young Adult Group Pizza & Movie Night
February 16th 5:30-9:30. Sign up at
community-church.com/youngadult
by February 15th.
Celebrate Recovery
meets on Sunday nights at 6:00. Come find freedom from your hurts, habits, and hangups and live the life God desires for you to live.
For more information on the groups offered at Community Church, please
check out our website
.
Still time to sign up for
IF:Oshkosh this weekend
, February 7-8, 2020. At this two day conference we will turn off all the noise, get in the Word, experience powerful teaching, dive into authentic conversations, worship Jesus, and hear stories that will compel you to take your next steps towards life and peace. Cost is $20 and includes lunch.
Sign up Now
!
Women's Retreat on March 20th - March 21st
at Green Lake Conference Center. Lynne Johnson will be speaking as we explore the theme of restoration.
Sign up today
!
Bible Study
- The Case for Christ by Lee Strobel lead by Mary Draeger and Markley Delikowski. Journey along with Lee Strobel on a quest for the truth about Jesus Christ. Do you have a friend or spouse question Jesus as the Son of God? Invite them to join you for this 6 week study, Thursday evenings 6-8pm beginning in March 5th.
Broomball and Bonfire Night! March 6th from 7-9pm we will have a Bonfire and Broomball night at Community Church Ryf Road. This event is for students 8th grade - High School. Hot chocolate and snacks will be provided.

Colorado 2020 - Save the date! A high school trip that will encourage students to not only stretch their faith with God but will continue to develop a stronger relationship with their peers and leaders. The trip will be June 20-28th with pricing and details still to come.

Salvation Army Donations - During the month of February CSM will be collecting toys to donate to the Salvation Army Birthday Club. Bring donations Wednesday to CSM.
The Little Free Pantry Challenge!
Hero Central is collecting items now through February 23rd to stock the Little Free Pantry here in Oshkosh. Hero Central classrooms are competing against one another to STOCK THE PANTRY! The class with the most items will win donut / hot cocoa party on Sunday, March 8th.
A total of 305 items have been collected.
The K/ 1st Graders are in the lead with 125 items.
Would you like to get involved as a family? Sign up to deliver the donated items to the Little Free Pantry. Email Wendy at
wendyls@community-church.com
to sign up.
HERO Central is hosting a
Family Roller Skating Party March 1st
at Fox Valley Roller Rink from 4-6 pm. Admission is FREE with a goodwill offering at the door. All donations will support our Compassion and Haiti Foundation Against Poverty sponsored kiddos.
We look forward to worshiping with you this Sunday.
Join us at Ryf Road or New City at 9am or 10:45.
We will be continuing our series, Luke: a documentary, focusing on Luke 5:12-6:49. Join us at 9am or 10:45am.

Cafe' on Ryf will be focusing on the Persecuted Church this Sunday. All donations will go to support Jon and Cheryl Peli. Stop in for donuts, bagels, steel cut oats and soup.

Here are the songs we will be singing:
There's Nothing That Our God Can't Do - Passion Conferences
Voices - Community Worship
Yes I Will - Vertical Worship
King Of Kings - Hillsong Worship
Majestic - Community Worship
The Solid Rock - Charlie Hill

Here is the sermon from last week:
We hope to see you Sunday at 9am or 10:45 as we continue our series Luke: a documentary and focus on Luke 5:12-6:49.

Here are the songs we will be singing:
Glorious Day - Passion Conferences
Shadow Step - Hillsong
Your Presence - Community Worship
Faith Arise - Community Worship
Build My Life - Housefires

Here is the sermon from last week:
Before you leave, check out these pictures from last Sunday at New City.