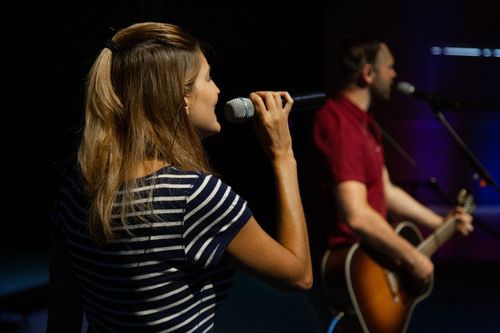 Welcome to our "News & Notes" blog!
Here you can find all the latest updates on what's happening at Community Church.

Sign up for this week's in person services at Ryf Road or New City.
Join us at 9am or 10:45am.
According to Governors Evers Public Health Emergency Order #82, face masks are required while indoors until the end of September. Please bring your own mask to church. We ask that you wear it when you enter the building and during service. You can remove it once you are outside.
If you are not ready to return to church or are not feeling well. Join us online at 9 & 10:45am.
Website:
community-church.com/live
Facebook:
facebook.com/oshkoshchurch
YouTube:
youtube.com/communitychurch
Online Prayer Time
Monday, August 10th at 7pm Interactive Prayer Time at
Community Church Facebook Live
.
Lake Lundgren Bible "Camp on the Road" is coming to Oshkosh
! Join us at Plymouth Church August 8th 12pm-5pm. The day includes a message time, camp games, crafts, tournaments, concessions and more. Admission is FREE!
For more information click here
.
Peace Lutheran Church annual Rummage Sale
Saturday, August 22nd 8am-2pm. Most items are 50 cents. Bake Sale & Hmong Eggrolls also available. Stop by 240 W 9th Ave. Please enter on 8th Ave (Door #9). Questions call (920) 231-4730.
Cup of Joy
is Wisconsin's premier venue for nationally-known Christian recording artists. Artists come from all over the country to perform on their stage, and every style of music is presented.
Check out the schedule for August - September
.
Impact Cares is a ministry that serves mobile home communities by fixing, repairing and improving the communities. Their goal is to be the hands and feet of Jesus to these residents.
The group will be serving at Lakeview on Sunnyview Road in Oshkosh on August 15. Volunteers are needed
to help paint, repair porches/decks, clean up landscape, hand out water/food.....If you can spare a few hours, your help would be greatly appreciated!
Please email Kim Patterson at
kimp@community-church.com
, if you are able to volunteer a few hours on Saturday. To learn more about Impact Cares, visit
impactmhcares.com
.
Celebrate Recovery is NOT going to be meeting in person at this time
. Due to the rising Covid-19 cases in Winnebago County we will be putting off starting again until further notice. If you would like to get connected with the group, please contact
Ron Paulick
.
Hero Central Bike Rodeo!
Join us for a fun family event on
Wednesday, August 19 5-7pm
. It will be an outdoor event with Food, Bike Obstacle Course, Bike Games, Balloon Animals, Bubble Station and more! Watch for registration and more information coming soon.
Hero Central will NOT be meeting during in person services at this time
. All children are welcome to attend services. Please stop by the table in the lobby to pick up a bag containing coloring sheets and crayons.
We are excited to be able to share
Hero Central @ home
with you. Check out the video lessons & parent guides on our
website
.
Get ready for Slip'N'Slide Kick Ball THIS SUNDAY, August 9th 3-5pm! Middle & High School students join us in the back of CC - Ryf Road. Make sure to bring a towel!
*In the case of rain - we will NOT cancel! Please bring a mask if you need to enter the building to use the restroom or in case of bad weather, we will move indoors. Disposable masks will be available if you do not have one.

PARENT MEETING / OUTDOOR MOVIE NIGHT - August 28th from 8pm - 11pm. The night will start at 8 pm with a parent meeting and outdoor games for the students, followed by an outdoor movie at 9 pm. All high school and middle school students are invited to attend.

We are working out the details for regular programming this fall. We plan to start back up September 2nd! Watch for more information regarding what CSM will look like coming soon.
We look forward to worshiping with you this Sunday.
Join us at Ryf Road or New City at 9am or 10:45. If you have not registered for a service you can register now at
community-church.com/church
.
Join us Sunday morning at 9am or 10:45. We will be continuing our series, The Apostle's Creed. If you plan to join us in person, sign up at
community-church.com/church
.
Here are the songs we will be singing:
Doxology - WorshipTogether
Open The Eyes Of My Heart - Integrity's Hosanna! Music
Here I Am To Worship - Thankyou Music
God of Wonders - Community Worship
Holy Is The Lord - Chris Tomlin
How Great Is Our God- WorshipTogether
This I Believe - Hillsong Music
Here is the sermon from last week:
Join us Sunday morning at 9am or 10:45. We will be continuing our series, The Apostle's Creed. If you plan to join us in person, sign up at
community-church.com/church
.
Here are the songs we will be singing:
Glorious Day - Essential Music
Way Maker - Leeland
Living Hope - Phil Wickham Music
My Testimony - Elevation Worship
Victory - Cru Music
Here is the sermon from last week: